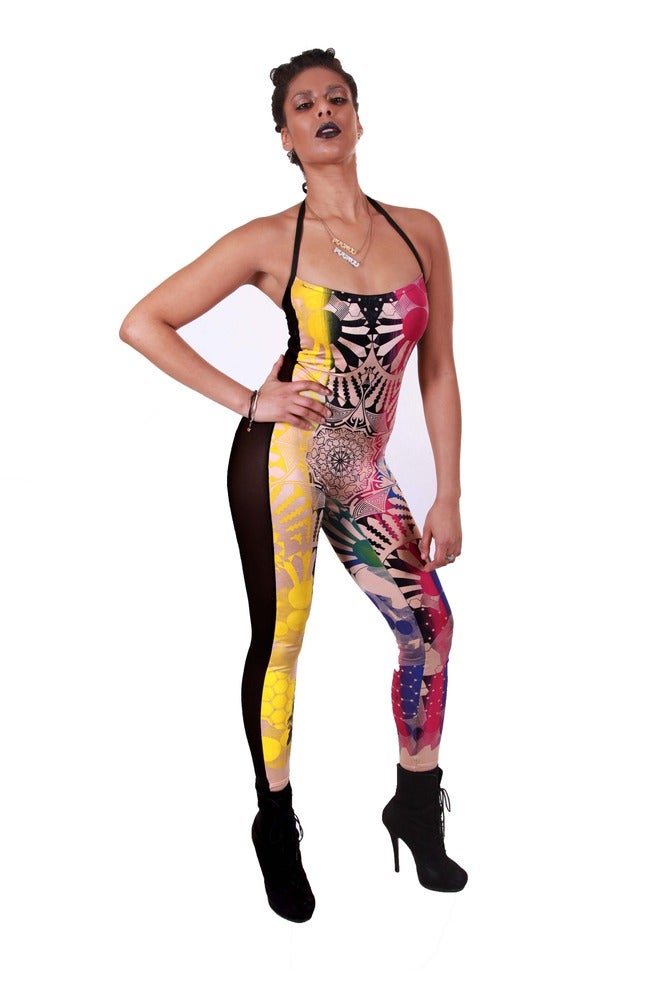 NEGATIVE ENTROPY COUTURE CATSUIT
For all you LEGGING LOVERS out there take it to the NEXT LEVEL with a CATSUIT...!!!
THIS ITEM IS HANDMADE TO ORDER THEREFORE HAS A 14 (WORKING) DAY PROCESSING TIME. IF YOU WISH TO HAVE THEM SOONER PLEASE CONTACT US AND WE WILL DO OUR BEST TO GET THEM TO YOU IN DESIRED TIME...
Due to cut of this catsuit with print front and back panels that go down the length of the body, they give a sexy shape to wearer.
Can be worn in many ways, here's a few to get you started...
Under a cropped T-Shirt or hoody with HighTop Trainers or DM's for a casual look.
On it's own with a belt to cinch in the waist to achieve the ultimate most wanted hourglass figure.
Wear with lots of accessories, Skyscraper heels or platform boots for a more Sexy evening and on Trend look.
Also a FESTIVAL MUST HAVE as can be a base for any amazing festival getup, whether worn with a tutu or a military jacket you'll still look HOT!!
The fabric design has been hand drawn and hand printed in the UK with a very talented up and coming fabric Designers TAPT and is EXCLUSIVE to Puckoo Couture.
Each piece can be tailored to your style/colour palette...as the design is hand screen printed it is available at additional cost in any colour and variety. Also this catsuit can be custom designed to your specifications. with additional panels and shaping.
GARMENT CARE INSTRUCTIONS:
COOL HANDWAS RECOMMENDED BUT CAN BE MACHINE WASHED ON A GENTLE CYCLE UP TO 30º AVOID WASHING WITH ANY OTHER GARMENTS THAT CAN SNAG LYCRA eg: ZIPS, VELCRO etc...
Availability
Size 6-8 (XXS) - 100% in stock

Size 8-10 (XS) - 100% in stock

Size 10-12 (S) - 100% in stock

Size 12-14 (M) - 100% in stock

Size 14-16 (L) - 100% in stock

Custom Size - 100% in stock

Custom Colour - 100% in stock

Custom Colour & Custom Size - 100% in stock