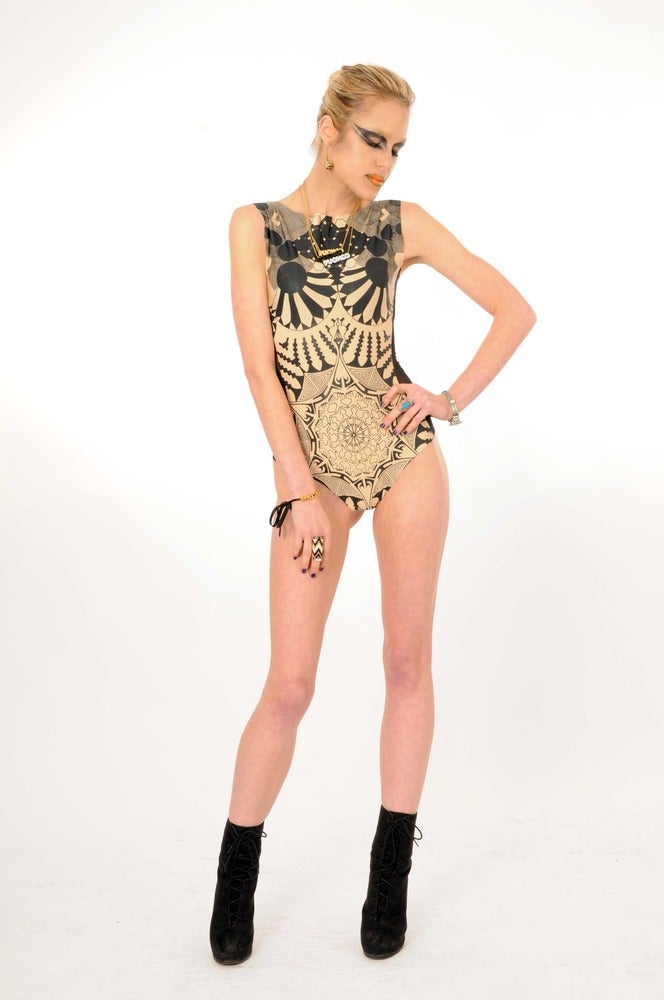 "NEGATIVE ENTROPY" Couture Bodysuit...
£225.00
Piece featured is 4 Panelled Couture Bodysuit from our A/W 12/13 "Blade Runner" Couture Collection Collaboration with TAPT
THIS ITEM IS HANDMADE TO ORDER THEREFORE HAS A 14 (WORKING) DAY PROCESSING TIME. IF YOU WISH TO HAVE THEM SOONER PLEASE CONTACT US AND WE WILL DO OUR BEST TO GET THEM TO YOU IN DESIRED TIME...
The fabric design has been hand drawn and hand printed in the UK with a very talented up and coming fabric Designers TAPT and is EXCLUSIVE to Puckoo Couture.
Each piece can be tailored to your style/colour palette...
This exact piece is £225
(alternative designs can be made to suit your budget)
Designed & HANDMADE in the UK by PUCKOO COUTURE
PHOTOGRAPHER: MAX HARRIS
MUA: MAGDALENA MUTUNGI
MODEL: MADGE CLAY
STYLING: PUCKOO COUTURE
STYLING ASSITANT: JOZIKA
EXCLUSIVE collaboration with Fabric designers TAPT
GARMENT CARE INSTRUCTIONS:
COOL HANDWASH RECOMMENDED BUT CAN BE MACHINE WASHED ON A GENTLE CYCLE UP TO 30º
AVOID WASHING WITH ANY OTHER GARMENTS THAT CAN SNAG LYCRA eg: ZIPS, VELCRO etc...
Availability
Size 4-6 (XXS) - 100% in stock

Size 4-6 (XXS) - 100% in stock

Size 6-8 (XS) - 100% in stock

Size 8-10 (S) - 100% in stock

Size 10-12 (M) - 100% in stock

Size 12-14 (L) - 100% in stock

Size 14-16 (XL) - 100% in stock

Size 16-18 (XXL) - 100% in stock

Size 16-18 (XXL) - 100% in stock