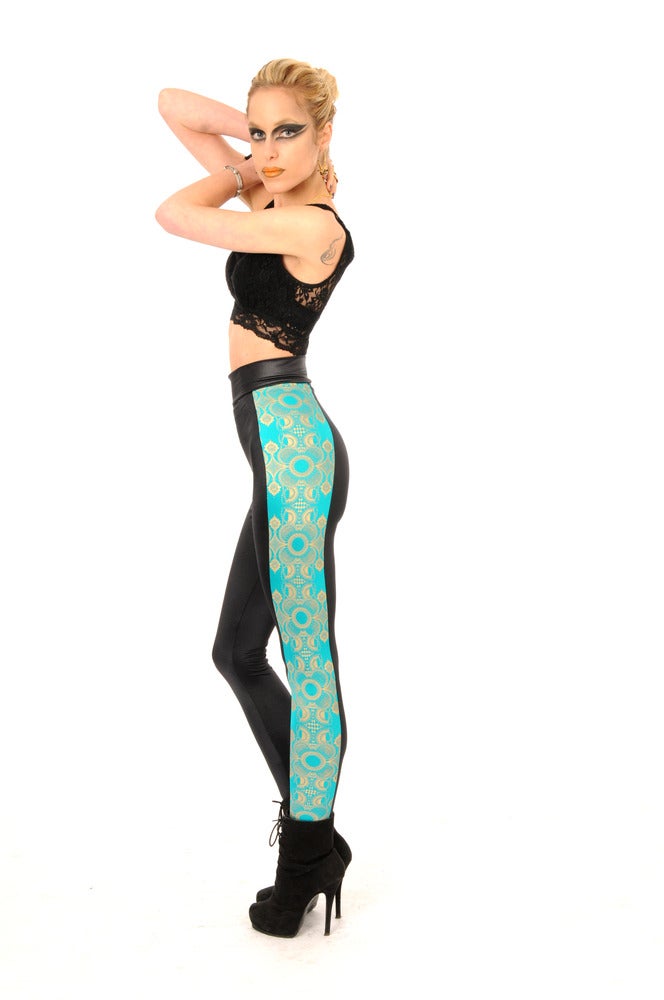 MOGWAI... GOLD ON JADE PRINT LEGGINGS
Leggings featured are from the "Blade Runner" Couture Collection.
Black wetlook Lycra extra highwaisted leggings
with hand drawn & hand printed Metallic Gold MOGWAI Pattern on jade green Lycra.
Print/Print design By AMAZING Designers "TAPT"
EXCLUSIVE to "Blade Runner" Couture Collection
THIS ITEM IS HANDMADE TO ORDER THEREFORE HAS A 14 (WORKING) DAY PROCESSING TIME. IF YOU WISH TO HAVE THEM SOONER PLEASE CONTACT US AND WE WILL DO OUR BEST TO GET THEM TO YOU IN DESIRED TIME...
GARMENT CARE INSTRUCTIONS:
COOL HANDWASH RECOMMENDED TO PROLONG BOLDNESS OF PRINT. AVOID WASHING WITH ANY OTHER GARMENTS THAT CAN SNAG SPANDEX eg: ZIPS, VELCRO etc...
Availability
UK Size 4 (XXS) NORMAL WAISTBAND - 100% in stock

UK Size 6-8 (XS) NORMAL WAISTBAND - 100% in stock

UK Size 8-10 (S) NORMAL WAISTBAND - 100% in stock

UK Size 10-12 (M) NORMAL WAISTBAND - 100% in stock

UK Size 12-14 (L) NORMAL WAISTBAND - 100% in stock

UK Size 14-16 (XL) NORMAL WAISTBAND - 100% in stock

UK Size 18 (XXL) NORMAL WAISTBAND - 100% in stock

MADE TO MEASURE NORMAL WAISTBAND - 100% in stock

UK Size 4 (XXS) EXTRA-HIGH WAISTBAND (as pictured) - 100% in stock

UK Size 6-8 (XS) EXTRA-HIGH WAISTBAND (as pictured) - 100% in stock

UK Size 8-10 (S) EXTRA-HIGH WAISTBAND (as pictured) - 100% in stock

UK Size 10-12 (M) EXTRA-HIGH WAISTBAND (as pictured) - 100% in stock

UK Size 12-14 (L) EXTRA-HIGH WAISTBAND (as pictured) - 100% in stock

UK Size 14-16 (XL) EXTRA-HIGH WAISTBAND(as pictured) - 100% in stock

UK Size 18 (XXL) EXTRA-HIGH WAISTBAND(as pictured) - 100% in stock

MADE TO MEASURE EXTRA-HIGHWAIST BAND (as pictured) - 100% in stock

UK Size 4 (XXS) LOW WAISTBAND - 100% in stock

UK Size 6-8 (XS) LOW WAISTBAND - 100% in stock

UK Size 8-10 (S) LOW WAISTBAND - 100% in stock

UK UK Size 10-12 (M) LOW WAISTBAND - 100% in stock

UK Size 12-14 (L) LOW WAISTBAND - 100% in stock

UK Size 14-16 (XL) LOW WAISTBAND - 100% in stock

UK Size 18 (XXL) LOW WAISTBAND - 100% in stock