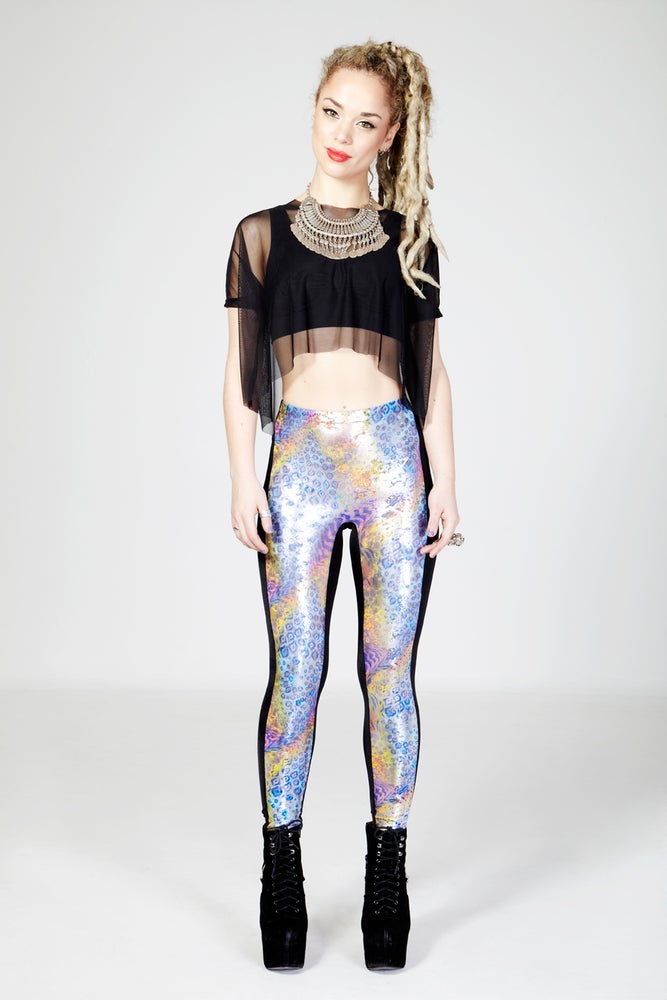 NICO Leggings in METALLIC ANIMAL
For all you legging lovers out there here's another unique design by Puckoo Couture...
If you are slightly less daring to go for the signature sheer 6 Panel pairs but LOVE your shiny metallic prints, why not try this slightly less reveling but still equally as HOT pair for size!
THIS ITEM IS HANDMADE TO ORDER THEREFORE HAS A 5 - 10 (WORKING) DAY PROCESSING TIME. IF YOU WISH TO HAVE THEM SOONER PLEASE CONTACT US AND WE WILL DO OUR BEST TO GET THEM TO YOU IN DESIRED TIME...
These leggings consist of two different fabrics.
Front Panels: Shiny Metallic Foiled Multi Coloured Animal Print Spandex.
Back Panels: Black 80%Nylon 20%Spandex .
And have an elasticated waistband
These leggings are made from high quality stretch fabric and are a MUST HAVE for any woman who is looking for a great basic piece to add to their leggings collection.
Can be worn in many ways, here's a few to get you started...
With a cropped T-Shirt or hoody with HighTop Trainers or DM's for a casual look.
With a sheer shirt & sequined crop top underneath, finished off with a thin belt to cinch in the waist to achieve the ultimate most wanted hourglasss figure.
Wear with a black lace body and lot's of gold accessories, Skyscraper heels or platform boots for a more Sexy evening and on Trend look.
Fabrics are always changing to keep things fresh and more exclusive. There is only limited supply of printed fabrics so leopard print may very slightly(pictures of exact fabrics are availible upon request) but quality will always remain.
These leggings come in many different color ways so if there's a certain color, or fabric you would prefer please contact us and we can make it up especially for you...
GARMENT CARE INSTRUCTIONS:
GENTLE COOL HANDWASH RECOMMENDED DUE TO METALLIC FABRIC. ALSO NATURAL WARE & TEAR WILL CAUSE SHINY FOILED FABRIC TO DULL OVER TIME.
AVOID WASHING WITH ANY OTHER GARMENTS THAT CAN SNAG LYCRA eg: ZIPS, VELCRO etc...
Availability
Size 4 (XXS) NORMAL WAISTBAND (as pictured - 100% in stock

Size 6-8 (XS) NORMAL WAISTBAND (as pictured) - 60% in stock

Size 8-10 (S) NORMAL WAISTBAND (as pictured) - 20% in stock

Size 10-12 (M) NORMAL WAISTBAND (as pictured) - 75% in stock

Size 12-14 (L) NORMAL WAISTBAND (as pictured) - 60% in stock

Size 14-16 (XL) NORMAL WAISTBAND (as pictured) - 100% in stock

Size 18 (XXL) NORMAL WAISTBAND (as pictured) - 100% in stock

MADE TO MEASURE NORMAL WAISTBAND (as pictured) - 100% in stock

Size 4 (XXS) EXTRA-HIGH WAISTBAND - 100% in stock

Size 6-8 (XS) EXTRA-HIGH WAISTBAND - 75% in stock

Size 8-10 (S) EXTRA-HIGH WAISTBAND - 100% in stock

Size 10-12 (M) EXTRA-HIGH WAISTBAND - 80% in stock

Size 12-14 (L) EXTRA-HIGH WAISTBAND - 100% in stock

Size 14-16 (XL) EXTRA-HIGH WAISTBAND - 100% in stock

Size 18 (XXL) EXTRA-HIGH WAISTBAND - 100% in stock

MADE TO MEASURE EXTRA-HIGH WAISTBAND - 100% in stock

Size 4 (XXS) LOW WAISTBAND - 100% in stock

Size 6-8 (XS) LOW WAISTBAND - 100% in stock

Size 8-10 (S) LOW WAISTBAND - 100% in stock

Size 10-12 (M) LOW WAISTBAND - 100% in stock

Size 12-14 (L) LOW WAISTBAND - 100% in stock

Size 14-16 (XL) LOW WAISTBAND - 100% in stock

Size 18 (XXL) LOW WAISTBAND - 100% in stock

MADE TO MEASURE LOW WAISTBAND - 100% in stock