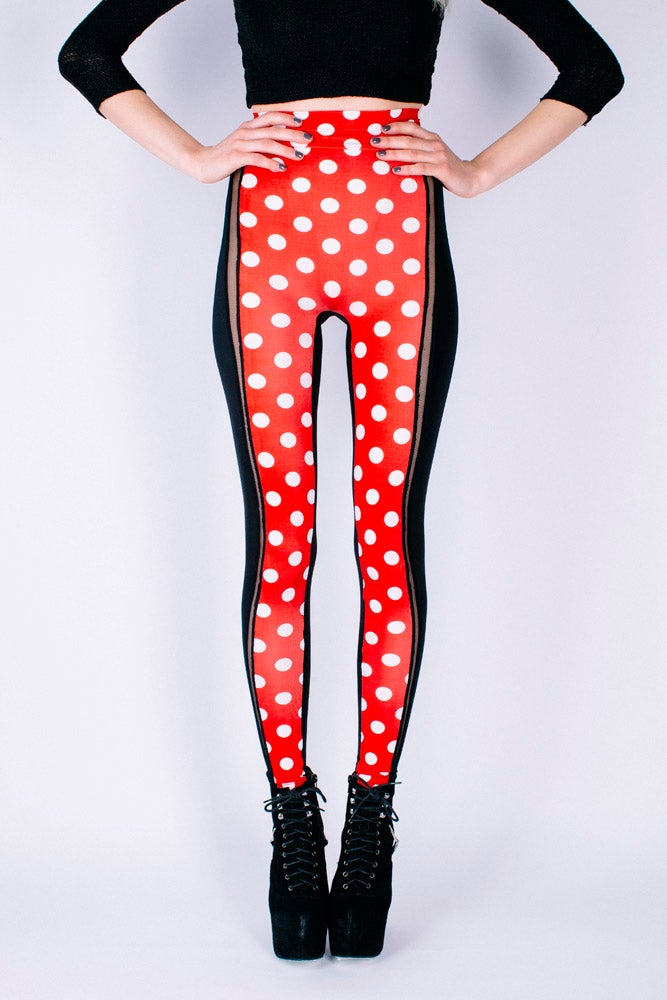 ALINA Leggings in MINNIE MOUSE POLKA DOT Print
High quality spandex handmade leggings in a Minnie Mouse print with small sheer front panels. Extra high waist waistband featuring PUCKOO COUTURE logo on back to prove authenticity!
****THIS ITEM IS MADE TO ORDER SO ALLOW APPROX 5-10 WORKING DAYS PROCESSING TIME**** A must have wardrobe item for any legging lover looking for a unique style with sexy sheer front panels to really set you apart from the rest. All items are designed and handmade in our Bristol studio here in the UK.

• Printed Nylon (80% Nylon / 20% Elastane)
• 240g Black Nylon Lycra
• Approximately 27" (68.58cm) inseam
SIZING
Model is a UK size 8 and is wearing a size SMALL. Please state when ordering if you are in between sizes or require a shorter leg or longer leg depending on your height. We also offer a made to measure service.
WAISTBAND CHOICE
Waistband pictured is our extra high waistband.
We also offer a normal elasticated waistband that sits approx around your natural waistline (belly button).
We also offer a low (hipster) elasticated waistband that sits below your waistline. You can choose which you'd prefer when placing order with sizing.
CARE INSTRUCTIONS
GENTLE COOL HAND WASH // DO NOT SOAK // DO NOT SCRUB
AVOID WASHING WITH ANY OTHER GARMENTS THAT CAN SNAG LYCRA OR NETTING eg: ZIPS, VELCRO etc...
Availability
Size 4 (XXS) EXTRA-HIGH WAISTBAND (as pictured) - 100% in stock

Size 6-8 (XS) EXTRA-HIGH WAISTBAND (as pictured) - 100% in stock

Size 8-10 (S) EXTRA-HIGH WAISTBAND (as pictured) - 100% in stock

Size 10-12 (M) EXTRA-HIGH WAISTBAND (as pictured) - 100% in stock

Size 12-14 (L) EXTRA-HIGH WAISTBAND (as pictured) - 100% in stock

Size 14-16 (XL) EXTRA-HIGH WAISTBAND (as pictured) - 100% in stock

Size 18 (XXL) EXTRA-HIGH WAISTBAND (as pictured) - 100% in stock

MADE TO MEASURE EXTRA-HIGH WAISTBAND (as pictured) - 100% in stock

Size 4 (XXS) NORMAL WAISTBAND - 100% in stock

Size 6-8 (XS) NORMAL WAISTBAND - 100% in stock

Size 8-10 (S) NORMAL WAISTBAND - 100% in stock

Size 10-12 (M) NORMAL WAISTBAND - 100% in stock

Size 12-14 (L) NORMAL WAISTBAND - 100% in stock

Size 14-16 (XL) NORMAL WAISTBAND - 100% in stock

Size 18 (XXL) NORMAL WAISTBAND - 100% in stock

MADE TO MEASURE NORMAL WAISTBAND - 100% in stock