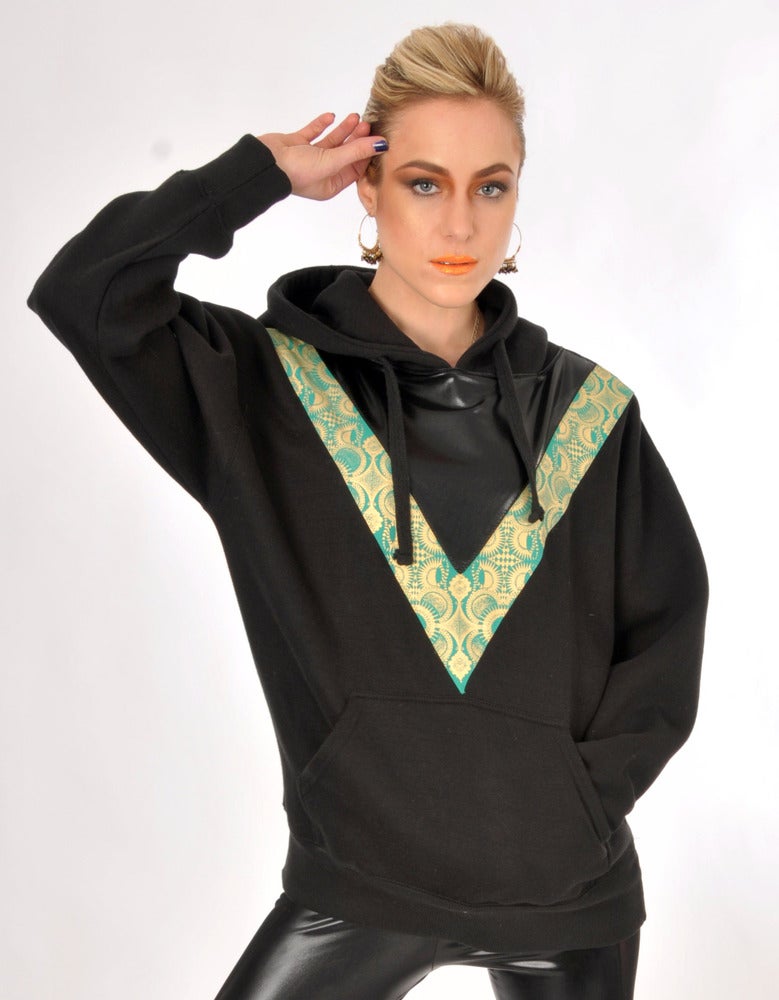 GOLD 'N' GREEN UNISEX "BLADE RUNNER" HOODIE...
£80.00
Unisex Hoodie with Kangaroo Pocket from the "Blade Runner" Collection.
Hoodie Featured is a Mens Medium, Also available in Womens Sizes...
High Quality Black Hoodie 80% Cotton.
Black Leather Look Spandex Insert
Green 100% Cotton Insert with hand drawn & hand printed Metallic Gold Pattern by AMAZING Designers "TAPT"
EXCLUSIVE to "Blade Runner" Collection
THIS ITEM IS HANDMADE TO ORDER THEREFORE HAS A 5-10 (WORKING) DAY PROCESSING TIME. IF YOU WISH TO HAVE THEM SOONER PLEASE CONTACT US AND WE WILL DO OUR BEST TO GET THEM TO YOU IN DESIRED TIME...
GARMENT CARE INSTRUCTIONS:
DUE TO NATURE OF LEATHER LOOK FABRIC COOL HANDWASH IS RECOMMENDED OR LEATHER LOOK FABRIC WILL DULL AND FADE.
DULLING & FADING OF FABRIC WILL OCCUR OVER TIME
AVOID WASHING WITH ANY OTHER GARMENTS THAT CAN SNAG SPANDEX eg: ZIPS, VELCRO etc...
Availability
Womens XS - 100% in stock

Womens S - 100% in stock

Womens M - 100% in stock

Womens L - 100% in stock

Mens S - 100% in stock

Mens M - 100% in stock

Mens L - 50% in stock

Mens XL - 100% in stock