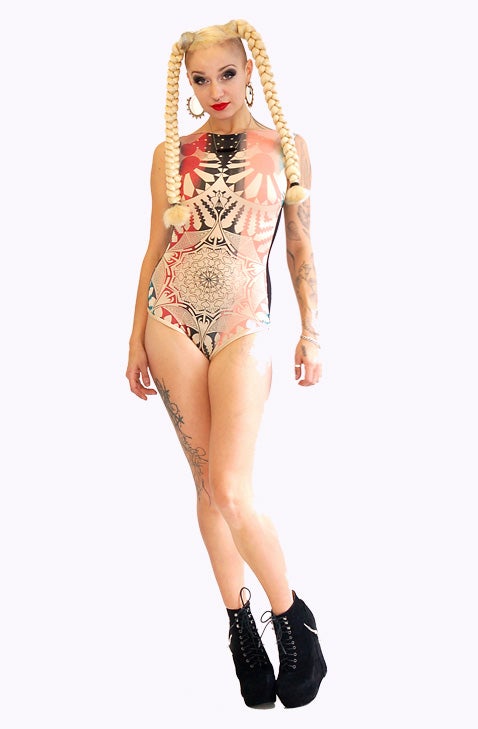 "BLADE RUNNER" BODYSUIT NEGATIVE ENTROPY PRINT WITH BLACK SHEER SIDE PANELS
THIS ITEM IS HANDMADE TO ORDER THEREFORE HAS A 14 (WORKING) DAY PROCESSING TIME. IF YOU WISH TO HAVE THEM SOONER PLEASE CONTACT US AND WE WILL DO OUR BEST TO GET THEM TO YOU IN DESIRED TIME...
COOL HANDWASH RECOMMENDED BUT CAN BE MACHINE WASHED ON A GENTLE CYCLE UP TO 30º
AVOID WASHING WITH ANY OTHER GARMENTS THAT CAN SNAG LYCRA eg: ZIPS, VELCRO etc...
Availability
Size 6-8 (XXS) - 100% in stock

Size 8-10 (XS) - 100% in stock

Size 10-12 (S) - 100% in stock

Size 12-14 (M) - 100% in stock

Size 14-16 (L) - 100% in stock

Size 6-8 (XXS) SHORTER BODY - 100% in stock

Size 8-10 (XS) SHORTER BODY - 100% in stock

Size 10-12 (S) SHORTER BODY - 100% in stock

Size 12-14 (M) SHORTER BODY - 100% in stock

Size 14-16 (L) SHORTER BODY - 100% in stock

Size 8-10 (XS) LONGER BODY - 100% in stock

Size 10-12 (S) LONGER BODY - 100% in stock

Size 12-14 (M) LONGER BODY - 100% in stock

Size 14-16 (L) LONGER BODY - 100% in stock

CUSTOM SIZE (email us to check processing time before ordering) - 100% in stock

CUSTOM COLOURS (up to 4 colours, email us to check availability before ordering) - 100% in stock

CUSTOM SIZE & CUSTOM COLOURS (up to 4 Colours, email us to check processing time and colour availability) - 100% in stock