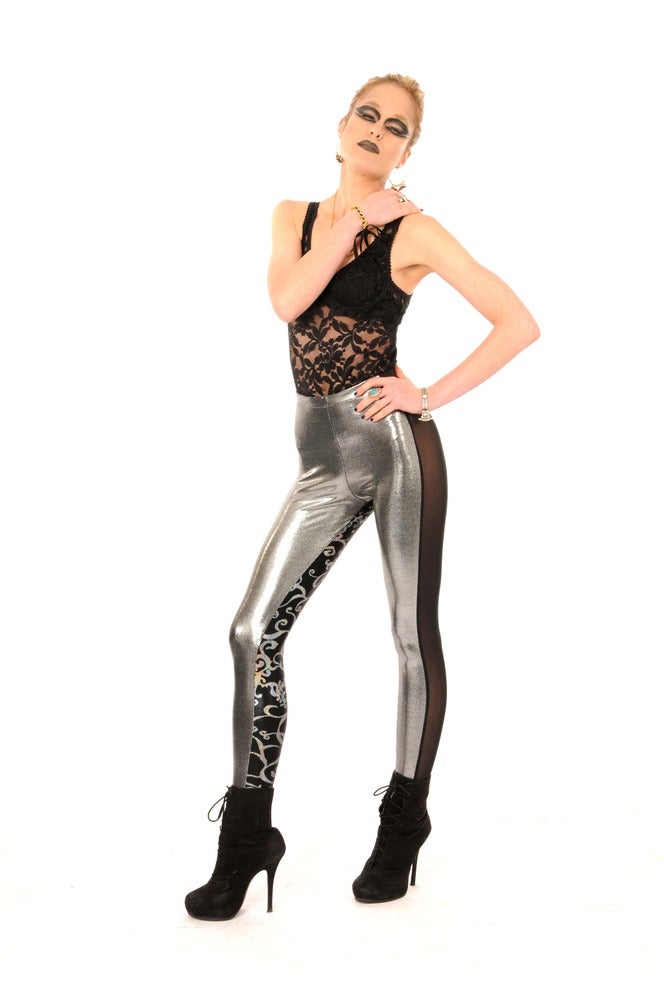 6 PANEL LTD EDITION SILVER MADUSSA...
£65.00
For all you MAGPIES out there here is a LTD EDITION version of CLASSIC 6 Panel Leggings.
Consist of 3 different fabrics.
Front Panels are Silver foiling on Lycra.
Side Panels are a Black Sheer Stretch net mesh.
Back Panels are Silver Holographic Swirl Print on Black Lycra.
THIS ITEM IS HANDMADE TO ORDER THEREFORE HAS A 5-10 (WORKING) DAY PROCESSING TIME. IF YOU WISH TO HAVE THEM SOONER PLEASE CONTACT US AND WE WILL DO OUR BEST TO GET THEM TO YOU IN DESIRED TIME...
Due to cut of these leggings they give a sexy, slimming shape to wearer and are a MUST HAVE for any woman.
Can be worn in many ways, here's a few to get you started...
With a cropped T-Shirt or hoody with HighTop Trainers or DM's for a casual look.
Wear with a lace body and lot's of accessories, Skyscraper heels or platform boots for a more Sexy evening and on Trend look.
Also a FESTIVAL MUST HAVE as can be a base for any amazing festival getup, whether worn with a Feather Headress or a military jacket you'll still look HOT!!
Fabrics are always changing to keep things fresh and more exclusive. There is only limited supply of printed fabrics so print may very slightly (pictures of exact prints are availible upon request) but quality will always remain.
These leggings come in many different color ways so if there's a certain color, or fabric you would prefer please contact us and we can make it up especially for you...
GARMENT CARE INSTRUCTIONS:
Due to nature of Holographic Fabric please COOL HAND WASH ONLY or Holographic fabric will dull & fade.
Due to nature of Holographic Fabric Dulling & Fading of Holographic Fabric will occur over time.
AVOID WASHING WITH ANY OTHER GARMENTS THAT CAN SNAG LACE OR LYCRA eg: ZIPS, VELCRO etc...